Join the AML Six Week Rider Balance Challenge today!
Are you struggling to sit still in the saddle?
Does your seat slide from front to back of the saddle?
Do you stand on your toes, let your leg flap around or push your feet too far in front of your body?
Are you struggling to keep your hands still? Or do you balance on your reins? Or do your reins get too long and you don't know how to stop it?
Keep reading... help is on hand!!
Are you lacking confidence as a horse rider? Do you doubt yourself and feel nervous about riding in groups or at clubs?
Are you told to "sit still" but don't know HOW to sit still?
If you had the chance to use proven methods to improve all of the above..would you?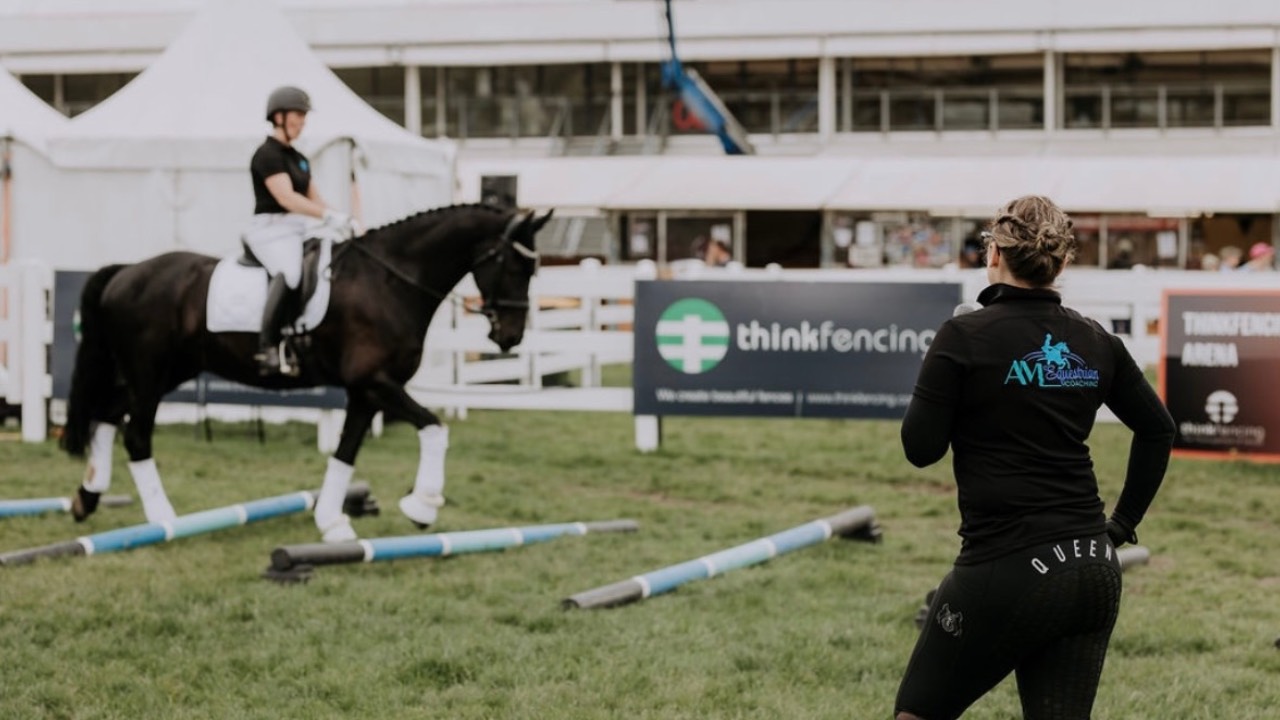 Well.... The AML Six Week Rider Balance Challenge can help you!
What do you get in the challenge?
SIX weeks of daily written and audio training programs proven to effectively improve horse riders positions of all types, positions and ages.
Specific pre-ride stretches for riders with demo videos to help improve your posture for riding!
Diagrams and set up instructions for poles or flat exercises to be trained.
Access to a private community.
One free mentoring call and video critique mid course, from Amanda Lewer.
How much does it cost? Less than $17 a day! Split into two fortnightly payments to cover your six weeks of training!
Find out how
Who is Amanda Lewer?
Amanda Lewer is a nationally qualified equestrian coach and professional horse trainer.
Amanda has been riding since she was two, trained under the assistant olympic coach in her late teens, competed up to old format 2* eventing but became more passionate about training and starting horses for clients than competing further up the elite levels. This is where she has been able to focus on the success of her clients whether it be competing to state and national levels or safely hacking their horses out! Amanda believes anyone can ride safely and successfully if they have a balanced position!
For over 25 years Amanda has coached thousands of riders of all levels focussing on improving their position, balance and feel.
In 2022 and 2023 Amanda was invited to be an Educator at Equitana in Melbourne to coach her methods with pole work. Using signature poles patterns she has specifically designed to help both horse and rider is just one of the tools she uses to stabilise horse riders balance and position while improving the horses mobility and strength.
Over the years Amanda has continued to develop and learn methods to improve horse riders position, balance and feel. It is here in this AML Six Week Rider Balance Challenge where you will gain access to her tested and proven methods.
"
I provide fun ways for riders to improve the foundations of their riding.


---
JOIN NOW
Check out what others have to say....
"
It is really the best feeling that I am finally getting better at riding. No physical lesson and coach has been able to truly help me progress.

-Mel Witcliffe
"
As a rider who was lacking a balanced, polished position I was finally pointed in the direction both my horse and I needed. The program was able to help me attain a position on Elvis that had more feel, balance and effectiveness!

-Sara Leitch
"
Amanda is an excellent coach that works with so many different level horses and riders . Great social day out for riders and horses. A fantastic structured poles lesson love all the different routines Amanda puts together.

-Channy Smith
Don't wait! Start your journey to become a better rider.
---
Get access to the 6 Week Rider Challenge - Beginner to Novice Course.
GET STARTED